What people are saying about us…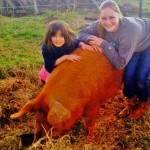 Diane Meyer
Livestock Intern | California, USA
Diane Meyer from USA spent 6 happy weeks with us as a Livestock Intern, on a farm in the Tablelands of Far North Queensland.
Here's what our California Girl said about her experience living and working on an Australian farm…

Firstly, I would like to say that I wouldn't trade this experience for anything in the world. I had no idea what to expect and was a little scared to be staying with a family I had never met before.
The Beattie family made me feel very safe and comfortable and were great hosts. It's not often that when someone tells you to "make yourself at home" that you actually feel at home, but from day one, I felt part of the family.
Overall, the internship itself was a great learning experience. Shane and John always made sure to keep me busy, but never gave me a task that was too difficult or strenuous. The entire family always looked after me and I never once felt overworked. I highly recommend this type of internship to anyone looking to gain more hands on skills in operating and managing a farm.
I can't imagine a better host family to have during my stay in Australia.
In addition to leaving with valuable career skills that I can apply in a professional setting, I left with new life-long friendships and memories that I will always cherish. I hope to come back as soon as possible, but for now all I can do is thank the Beattie family for giving me one of the best experiences of my life. I don't know how I can repay their kindness and hospitality, but I hope they know how grateful I am for everything. Diane Meyer, California USA
---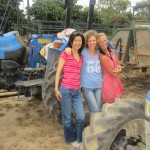 Aussie Mates!
Hosted Farmstay | from JAPAN & QLD
My Japanese friend and I stayed on a papaya plantation in Tropical North Queensland. I can honestly say that a farmstay is the most rewarding and memorable to experience the best Australia has to offer. Our Farmstay Hosts Kerrin and Will's hospitality was second to none. It was lovely to share their
lifestyle for a weekend and compare our busy 'city lives' with their wholesome, hardworking yet peaceful existence. We picked mulberries and ate them until our mouths turned blue; collected eggs for our breakfast and Kerrin has the most incredible vege and herb garden which she harvests every meal time. Will gave us a tour of the plantation and a ride on a special purpose-built tractor made for shaking the beans off coffee bushes! We still keep in contact with Kerrin and Will and have made a plan to visit again this year. Shauna & Chika from Japan & QLD
---
Jodie & John
Farmstay Hosts | Atherton Tablelands, QLD
Thank you so much for including us in your farmstay program – we had a great time! The boys were very shy and polite and it was often difficult to tell if they were really interested or just being polite but there were certainly a few moments when we knew they were impressed and enjoyed themselves!
The boys made a big effort to overcome their shyness – they did really well! I think they liked collecting eggs and digging up vegetables and seeing John saw up a timber plank and I know they were impressed that he had built all the houses and sheds! We even had kangaroos jumping through our barbecue area. It was fantastic to see Ed connect with the boys – he just ordered them about (in a funny and great way!) 'stand over here, pull out that carrot, smile at the camera!' Those boys loved it and responded well to the gentle bossing about.
Some things were so surprising to us, they were a little wary of the campfire at first; and they spent a lot of time using wipes to clean off their shoes whenever we walked anywhere! Anyway we would really like to do it again – I think we all learned something from each other. Jodie and John, Farmstay Hosts from Atherton Tablelands region, QLD
---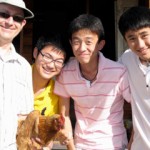 Ed, Andrea & Family
Farmstay Hosts | Tablelands, QLD
We had a wonderful time hosting the Japanese students on our farm. We hope they come back and visit us again. Ed, Andrea, Emily, Georgia (& Maurice the dog), Farmstay Hosts, Tablelands QLD
---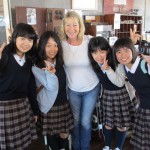 Kansai Daigaku Daiichi Junior High School
Hosted Farmstay | Kansai, JAPAN
Kansai Daigaku Daiichi Junior High School have been bringing their students to Australia for a Farmstay experience with us for the last 9 years. Here's what some of their students have had to say about their Aussie farm experiences….
"Thank you! You made our trip wonderful! I enjoyed staying here and I hope to come back."  Akemi
"It is a little difficult for me to get used to the shower, but I enjoyed every day. I don't want to go back to Japan."  Sora
"You are very interesting and kind. I enjoyed Australia life. I'll never forget you!!" Ayaka
"This Australian farm will be in my memory forever… See you again" Masumi
---
I am so pleased we chose Banora International Group to coordinate our group tour to Australia. It was our first time to bring our delegation to Australia and our expectations were exceeded from the moment we approached Janine with our request. She addressed all of our needs and met all of our special requirments. Every one of my questions were answered, either in person, by email or by phone in a prompt and courteous fashion. Our itinerary was custom made with a perfect balance of educational, agricultural and leisure components.  Thank you for making the entire trip one of the best we've ever had. 
I also want to acknowledge your Farm Tourism Manager Dolly and the regional coordinators she worked with to put our varied Technical Visits together. The content, locations and delivery of each visit was seamless. Dolly is extremely knowledgable, open-minded and professional. I enjoyed our communications every step of the way. 
We are truly grateful for all your effort to make our trip a success and look forward to a lengthy business relationship.
Alex T,  from Switzerland | Farmstay & Technical Visits, QLD & NSW
Copyright © Banora International Group